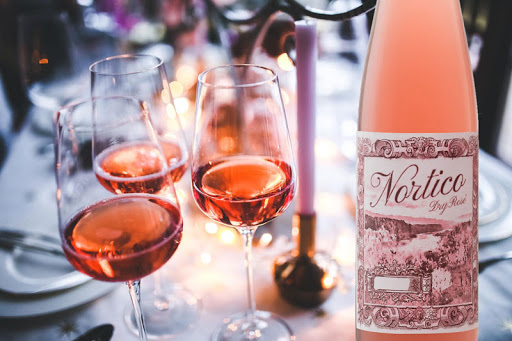 Summer is officially here! These are just a few featured wines from our extensive portfolio that we think are the perfect companion for warm weather. These wines are all from Spain and Portugal through Ole & Obrigado Imported fine wines and family owned wineries. For more information on these wines, please visit Ole & Obrigado.
Zestos Rosado
This elegant vibrant, mineral rosé from the high elevation mountains of Madrid offers aromas of strawberry and pomegranate coupled with flavors of cherries and grapefruit. The finish is crisp with notes of minerality.This tremendous dry rose is made from old vine Garnacha from one of the undersung growing areas of Spain, DO Vinos de Madrid. Zestos, which means basket in Spanish, pays homage to the rich viticultural history of Spain, referencing the back-slung baskets that vineyard workers used to transport the grapes from the vineyard to the wineries on foot. Zestos Rosado is the perfect warm-weather sipper – a versatile wine that performs equally well on its own or a variety of delicious food.
Gaintza Txakolina
Bright green-yellow. On the nose, high toned aromas of lemon, quince, green apple and sorrel are overlaid with sea spray and stony mineral notes. On the palate, puckering acidity and effervescence lend a practically gulpable appeal, with bright meyer lemon, apple and green herbs. Finishes salty and clean, begging for another sip. Light, bright, refreshing… this is a bottle for seaside enjoyment, if there ever was such a thing.
Columna Albariño
Brilliant yellow. Lively aromas of quince, lemon zest and jasmine pick up a strong mineral element with air. Dry, sharply focused and nervy on the palate, offering densely packed, refreshingly bitter citrus pith, pear skin and honeysuckle flavors that show excellent clarity. Closes taut and stony, displaying tight grip, a hint of honeysuckle and lingering florality. Columna is painstakingly handmade from harvest to bottle, using ambient yeast fermentation. Finished in stainless steel, Columna is a fresh, approachable expression of Albariño that is a versatile pair for a wide variety of food or delicious by itself.
Nortico Rose
Alvarelhao and Pedral contribute freshness and complexity and Vinhao brings volume and weight. On the nose, bright red berry and watermelon fruit are complemented by saline minerality. On the palate, light, fresh and delicate, with mouthwatering red fruit and refreshing acidity. Extraordinarily fresh, light colored rosé from northern Portugal, where expertise is required to grow red varieties. Nortico's grapes are farmed on the south banks of the river Minho in tiny plots on the northern border with the Spain-Galicia province, and its proximity to the Atlantic Ocean plus the intense minerality offer excellent structure and a kiss of salinity on the palate.
For a full list of all wines we offer at National, please be sure to check out our SevenFifty profile!
https://www.nat-dist.com/wp-content/uploads/2021/06/unnamed.jpg
341
512
Allyson Beaule
https://www.nat-dist.com/wp-content/uploads/2019/03/nationaldislogo.png
Allyson Beaule
2021-06-22 13:41:19
2021-06-22 13:42:31
These Wines are perfect for Summer