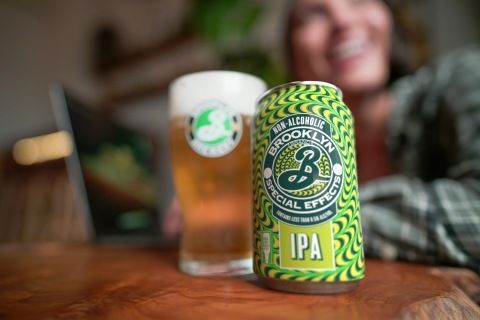 Did you make the choice to start the new year by participating in Dry January? We've got you covered! Here is a selection of some of our favorite non-alcoholic beers and Seltzers that we think you will enjoy.
DOMESTIC AND CRAFT NON-ALC BEERS
Brewdog Punk AF
Non-alcoholic near beer just got punked up. Say hello to the punkest non-alcoholic near beer in town. Juicy tropical fruits mixes it up with grassy and pine notes, all sitting on a solid malt bassline.
Brewdog Hazy AF
Low alcohol just got juiced up. And Hazy AF lives up to the hype. All the attitude, all the flavor but none of the alcohol. Say hello to the juiciest alcohol free near beer in town. Tropical fruits and grassy notes mix it up. Oats and wheat unite for a smoother ride. Full flavor, low alcohol, all out New England.
Busch NA
Busch NA is fully brewed with a blend of premium American hops, fine barley malt, cereal grains, and pure water. Once fermented and matured the alcohol is removed through a low-temperature process to retain a rich flavor and quality.
O'douls
O'Doul's is an all natural, full bodied, premium non-alcoholic malt beverage. It contains only the finest natural ingredients – including barley malt, domestic & imported whole cone hops, brewers yeast, select grains and water. The only difference between O'Doul's and other malt beverages, or beers, is that the alcohol is gently and naturally removed after the maturing process.
Brooklyn Special Effects IPA
Brooklyn Special Effects IPA brings the bright hop aromas and crisp citrus flavors of our favorite IPAs to the non-alcoholic world, all with under 100 calories. We brewed it for drinkers everywhere who love all things hoppy and refreshing, but without the high ABV. Whenever and wherever the IPA mood strikes, Special Effects IPA is there to help you do more with your days and nights.
IMPORTED NON-ALC BEERS
Clausthaler Dry Hopped
Full-bodied and hoppy with hints of malty caramel, Clausthaler Dry-Hopped is a beer connoisseur's dream. As the first non-alcoholic of its kind, it brings together German craftsmanship, the world's foremost non-alcoholic brewing technique, and Cascade Hops imported from the USA. This unique combination makes for an unmistakable citrus aftertaste and an amber beer with real character. Compared to Clausthaler Unfiltered, Clausthaler Dry Hopped has a distinctive malty character with a dark golden color.
Clausthaler Original
Ever since it put non-alcoholic beer on the map in 1979, Clausthaler has been the gold standard of the segment. With its own, specialized brewing technique, the pioneer still creates its signature non-alcoholic lager, Clausthaler Original, in strict accordance with the German purity law. Its genuine real beer taste is well-balanced, fresh, and easy to drink, with a creamy feel on the palate and a pleasing golden color to match.
St. Pauli Girl
The chill of winter calls for a beer with extra flavor and strength, and this take on a classic strong ale does just that—it soothes the soul and warms the spirit. Flavors of caramel and chocolate are derived from an abundance of carefully roasted malts. Chinook and Mt. Hood hops contribute a spiciness, lending balance and a clean finish. Christmas Ale is a cozy holiday companion worthy of sharing.
Buckler NA
Netherlands- Non-Alcoholic- Euro Pale Lager- Pours a clear straw yellow color. A very sweet, grainy aroma with hints of lemon grass and husky corn. Tastes of sweet malts and grainy corn with a lingering tartness and metallic zing.
Heineken 0.0
Our master brewers started from zero and spent years exploring, brewing, and tasting before they finally created a recipe defined by its refreshing fruity notes and soft malty body – perfectly balanced. One that deserves the Heineken mark. Of course, with the uncompromising Heineken characteristics since 1873: made with top ingredients and Heineken's unique A-Yeast. It wasn't easy, but not impossible.
NON-ALC CBD SELTZERS
Longtrail CBD Seltzer
The brewery has been stocked for the past few months and, after dialing-in the process and adding a Raspberry Lime flavor, we're ready for these chill and crushable cans to hit the trail outside of the brewery, and we're sending only the best product your way, which includes 20mg of CBD per 12oz. can; a fact that's been verified by a third-party. Available in Blackberry, Blueberry and Raspberry Lime.
https://www.nat-dist.com/wp-content/uploads/2021/01/67ad3cf1015e62ccdd151edb2a8d8a32.jpg
320
480
Allyson Beaule
https://www.nat-dist.com/wp-content/uploads/2019/03/nationaldislogo.png
Allyson Beaule
2021-01-08 13:45:53
2021-01-08 13:47:12
Looking for some great Non-Alcoholic choices for Dry January?