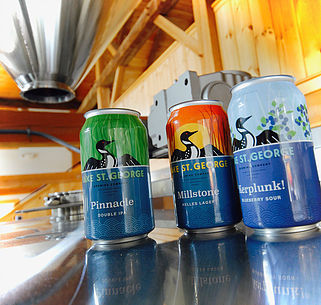 We are excited to now be distributing beers by Lake St. George Brewing Company.
In 1993, Lake St. George Brewing Company opened its doors as the 6th brewery to operate in Maine. Started by Danny McGovern and his partner, Kellon Thames, the beer was brewed in the McGovern's basement on a 7 bbl system. There was no tasting room, no packaged product and all accounts were draft only.  In between brew days and CIPs Danny would deliver beer along the coast of Maine from Portland to Belfast during a time when most folks had never heard of IPA's or Oatmeal Stouts. In the 90's, craft beer held only 2% of the market share, and so a tough choice was made after a few years to decommission the brewery even as the beer was winning awards at the World Beer Festival.
The resurrection of Lake St. George Brewing Company involves the whole family.  Things are a little different now than they were back then. The new Lake St. George is geared toward comfort and relaxation. Their goals are simple: give people the best beer they know how to make and a nice spot in the country to drink it.  Lake St. George Brewing Company is proud to be in Liberty, just a stones throw from the pristine waters of Lake St. George, in a community we love, amidst the ridges and valleys of Midcoast Maine.
Beer Lineup:
#96 IPA
7.6% ABV – Citrus and pine hop flavors are smoothed by a malty backbone in this medium-bodied, balanced IPA. Columbus hops provide traditional bitterness with El Dorado, Mosaic and Citra hops delivering rich aroma and flavor.
Danny's Oatmeal Stout
4.9% ABV – Oatmeal, wheat and flaked barley give this beer a luscious mouthfeel and fluffy cream-colored head. Hops and malt are balanced perfectly in this one to create a beer with a satisfying roasty flavor and a slightly dry finish..
Davistown Brown
6% ABV – Malty and sweet with roasted coffee and chocolate notes, this brown is darker and richer than the traditional. It is a recreation of Dirigo Ale, the first beer brewed at the original Lake St. George Brewing in 1993.
For more information, please visit Lake St. George Brewing.
https://www.nat-dist.com/wp-content/uploads/2019/04/cans-on-mash-tun.jpg
305
321
Allyson Beaule
https://www.nat-dist.com/wp-content/uploads/2019/03/nationaldislogo.png
Allyson Beaule
2019-04-26 13:54:26
2019-04-26 13:54:26
Welcoming a Maine Brewery to National